Building a Web Page Can Be a




Daunting Task Unless...




...unless you know what I know about building a web page.

Behold the turtle. He makes progress only when he sticks his neck out. James B. Conant
You most likely are seeking answers to the questions introduced on the "About Us" page.
Both Alice and I are seniors with minimal computer skills, but we have a passion to share knowledge about a subject for which we know a good deal about and lots of time to spend doing just that.
I'm betting this description fits most seniors and even a few that are not seniors like WAHM (Work At Home Moms).
When I originally retired I planned to quilt with all my friends. Quilting is a teachable skill that affords a great deal of fun and excitement.
The best thought out plans are always subject to change. And ours were!
We needed to find an alternative source of income to pay for the idle long arm quilting machine sitting in Alice's basement.
My goal was to build an online business that would generate an income equal (or greater, of course) to the salary I was earning before retirement.


A Work Around to
Building a Web Page


We are celebrating several years of using Site Build It! in building a web page.
Their motto is the tortoise, slow as you go! And that is exactly our speed. No hurry as I am learning...remember, I know very little about computers and even less about html coding.
I'll admit, I'm slow, but that is by design! You work at your own pace. I'm a bit of a perfectionist and in this case it may be a disadvantage but it is the way I work.
Nowhere else can you say that to your boss. When building a web page you are the boss!
Quilting is my game...I have a few others but quilting is the first! Your game may be art, woodworker, accounting, music, dogs, travels or any venue for which you have a passion to share. So long as it passes the Site Build It! test.
Believe it or not, a limited knowledge about computers is OK in your quest of building a web page.
Depending on your interest and commitment, you can even make a few bucks on the side.
Don't Know How to Write?...Site Build It! has a fix for that too. They are Teachers!
We introduced monitizing ideas for the first time on our site. Within the first month we were getting a small check from AdSense. Steady as you go is our motto!
We earn a small amount by placing AdSense ads on our site.
We sell digitized patterns that are original designs by Alice.
Amazon pays a commission too when a visitor buys through our site for those products we showcase.
Building a web page requires you to commit a chunk of time on a daily basis especially in the beginning.
I'm retired but I spend 4 to 6 hours daily building a web page and generally early in the mornings. Senior minds seem to work better at that time.
The text book(s) is massive but if you like to read you will find the answers. The resources are unlimited. All you have to do is read or watch videos and then remember what you read.
Site Built It! really does lead you through the process block by block! They even have a free e-book that teaches one to write.
They help you choose the right topic for your web site by using their tools. They make sure you start with a profitable topic and only if it passes the competition test. Last, they make sure there is money to be made.
There is a modest annual fee which can also be paid monthly. This gives you access to all the tools, videos, reading materials and much, much more...it is massive!
Their 90 day money back guarantee is the best in the industry. Don't like it? Just give it back, no questions asked.
Why wouldn't you give it a try? As with any new idea initially it is overwhelming. Eventually the "light comes on" and it gets easier. If I can do it you can too!
Of course, there is no magic bullet for success in any field. It will always come down to hard work, persistence, and just getting out there and "doing it".
Nothing in this world can take the place of persistence.




Talent will not; nothing is more common than unsuccessful people with talent.




Genius will not; unrewarded genius is almost a proverb.




Education will not; the world is full of educated derelicts.




Persistence and determination alone are omnipotent.



Calvin Coolidge

Join an Unimaginable
Number of Common Friends



It is true that nearly every city in the United States of America has several quilting groups that meet on a regular basis. They are everywhere! Throw in the World Wide Web and the figure becomes almost UN-comprehensible.
All of these people are just waiting to share in your knowledge that is made available through a web site!
This web site was built using the folks at Solo Build It and their technique of developing one block at a time. Affordable too! Anytime you are able to simplify what is normally a difficult process you win.
Quilters experience this by breaking down what is normally a difficult pattern such as the Lone Star Quilt Pattern
When you are "spoon fed" you can achieve unthinkable results and unthinkable returns on your time and energy!
SBI delivers success and plenty of it! Your part is to supply the time and dedication. Learning to "do it yourself" may not be for you...get on the fast track and have an SBI specialist "do it for you". If I can do this, you can!
Give it a try...remember; you don't need to have deep pockets on this one. The price is very reasonable; full refund within 90 days, guaranteed!
See how this retired couple found enjoyment in their retirement! Go ahead and click on their picture to open a video
Return From Building a Web Page to Keepsake Quilting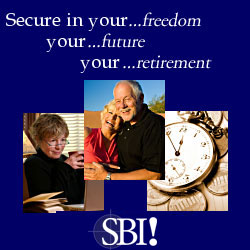 Let's Talk About Quilts. 

Join us on Facebook.